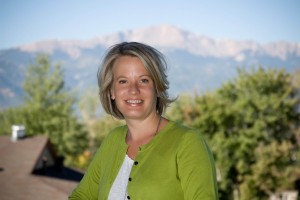 Dr. Kirsten L. Ziuchkovski
Dr. Ziuchkovski grew up in Bismarck, North Dakota.  Her grandfather was a dentist in rural North Dakota and inspired her to pursue a career in dentistry.  She completed her undergraduate degree at the University of Colorado at Boulder and went on to receive her dental degree in 2003 at the University of Colorado Health Sciences Center in Denver.  Not only did Dr. Ziuchkovski enjoy her time learning the art of dentistry, she also got the opportunity to meet the man she would someday marry.  They happened to be in the same class!  Dr. Ziuchkovski was then selected for a nationally recognized general practice residency at the University of Texas Health Sciences Center in San Antonino.
Dr. Ziuchkovski returned to Colorado and has been practicing in the Pikes Peak Region for the past 12 years.  She joined Flintridge Dental Center and has been practicing alongside Dr. Utke since 2013.  Dr. Ziuchkovski and Dr. Utke share the same conservative philosophy of patient care and both spend a lot of time educating their parents on the importance of oral health.  Her husband, Jim, is a native of Colorado Springs and practices orthodontics here in town.  Together they have three precious children, Lilian, Kyan and Joseph along with a golden doodle named Yarra.  Many laughably refer to them as the "teeth family."  They both enjoy the beautiful outdoors and spending time with family and friends.
Dr. Ziuchkovski is a member of the American Dental Association, the Colorado Dental Association and the Colorado Springs Dental Society.  She is also a member of the Colorado Prosthodontic Society and attends numerous continuing education seminars watch year.  Dr. Ziuchkovski and Dr. Utke have both been named as one of Colorado Springs Top Dentists and have been selected by their peers consecutively for the past 7 years.  She is very honored and humbled by this nomination.
Dr. Ziuchkovski is an active member in her church parish.  She has a passion for helping others both in  and outside of the dental community.  One of her most memorable experiences was participating on a mission trip to Piedros Negros, Mexico.  Dr. Ziuchkovski had the opportunity to meet some of the bravest and most grateful children and adults there.  Helping people feel comfortable at the dentist and creating a trusting relationship between her and her patients is the reason she loves coming to work each day.