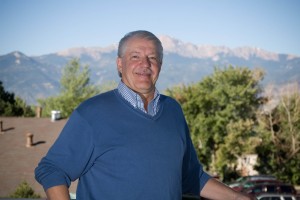 Dr. Utke has provided the Colorado Springs community with down-to-earth, genuine and personalized care for more than 25 years. With a Midwest upbringing and quality training from Creighton University, he brings a blend of hometown feel with a professional commitment to service and patient care.
On top of that, patients have noted his professionalism and integrity. Dr. Utke has been known to personally follow up with patients with a friendly call, and he has even taken it upon himself in some cases to personally write to insurance companies on behalf of patients to ensure maximum coverage.
And his integrity extends beyond his practice. He participates in a variety of charity activities that give back to the Colorado Springs community and beyond. He is currently serving on the Executive Committee of the Colorado Dental Association as President (from June 2013 through June 2014), and is also a member of other government and organized dentistry task forces, holding positions on the Peer Review Committee, Sunset/Dental Practice Act Committee and Strategic Planning Committees.
In 2010, Dr. Utke's most rewarding charitable effort was to be Site-Chairperson for the Colorado Mission of Mercy, a free dental clinic held in Colorado Springs. As a member of the Colorado Mission of Mercy Board of Directors he helped coordinate the event so that over 1,300 patients received over $1 million in donated dental care.
Thanks to his commitment to offering genuine care and his extensive philanthropic work, Dr. Utke has an outstanding reputation in the dental community among his colleagues and his patients.
"Our time here is short, but we need to leave our dental organizations' and communities' 'woodpile' a little taller, wider and deeper, for all those who follow us." — Dr. Cal Utke, DDS